Issue 113 | February 2022
The future of Ethiopian mining, obstacles and opportunity in Greenland, and mining responsibility.
Issue 112 | January 2022
South Africa's mining charter, "phasing down" coal and what the energy transition could mean for metals.
Issue 111 | December 2021
A US mining reform, cybersecurity challenges and how drones are driving mining innovation.
Issue 110 | November 2021
The role of Scope 3 emissions, artisanal mining in Kenya and the future of Afghan mining.
Issue 109 | October 2021
The Peruvian presidential election, mining ethics in Afghanistan and the DRC and Swedish investment in innovation.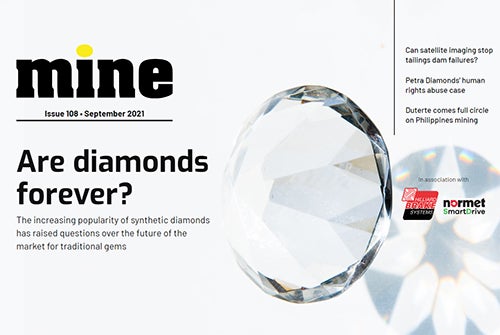 Issue 108 | September 2021
The increasing popularity of synthetic diamonds, can satellite imaging stop tailings dam failures, Petra Diamonds' human rights abuse case, and more.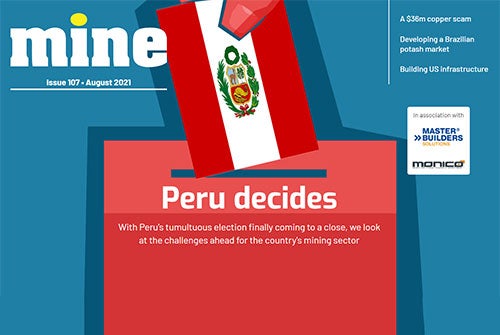 Issue 107 | August 2021
Challenges ahead for Peru's mining sector, a $36m copper scam, developing a Brazilian potash market, and more.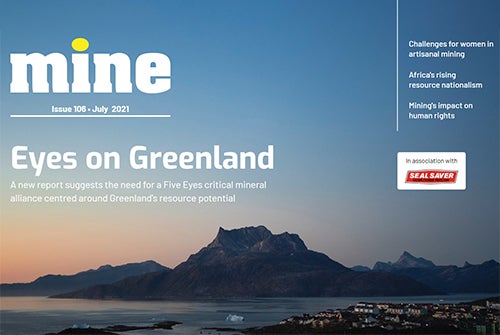 Issue 106 | July 2021
A Five Eyes alliance for critical minerals, challenges for women in artisanal mining, mining's impact on human rights, and more.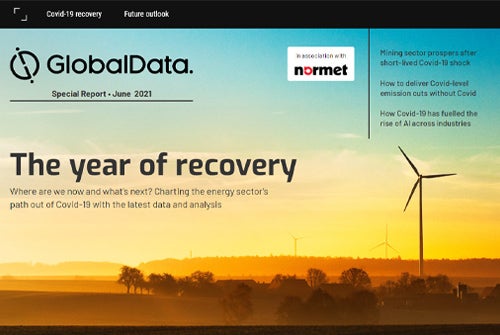 Special report | June 2021
The year of recovery: Charting the energy sector's path out of Covid-19 with the latest data and analysis.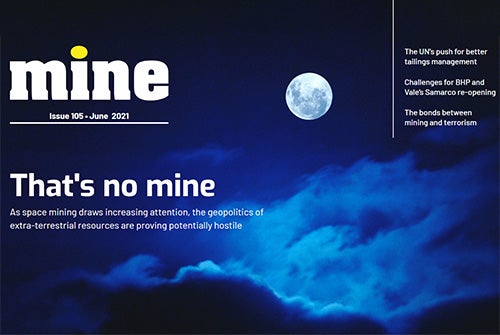 Issue 105 | June 2021
Space mining geopolitics, the UN's push for better tailings management, the bonds between mining and terrorism, and more.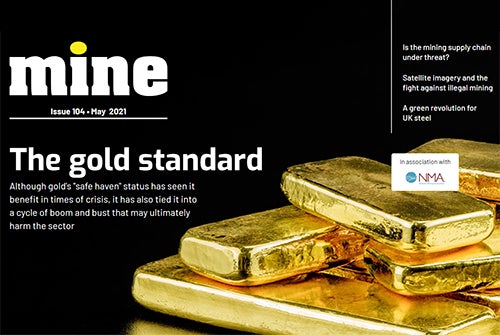 Issue 104 | May 2021
Gold's cycle of value, threats to the mining supply chain, satellite imagery in the fight against illegal mining, and more.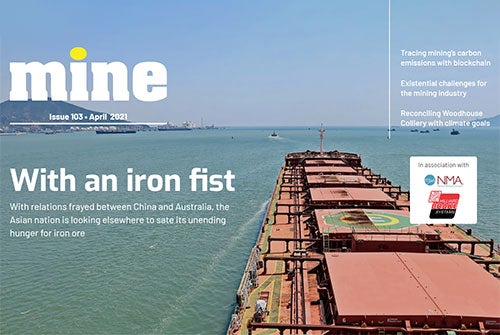 Issue 103 | April 2021
China looks further afield for iron ore, tracing mining's carbon emissions with blockchain, existential challenges for the mining industry, and more.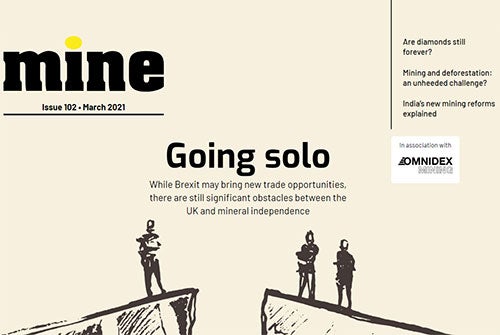 Issue 102 | March 2021
Brexit's impact on UK mining, can miners prevent deforestation, explaining India's new mining reforms, and more.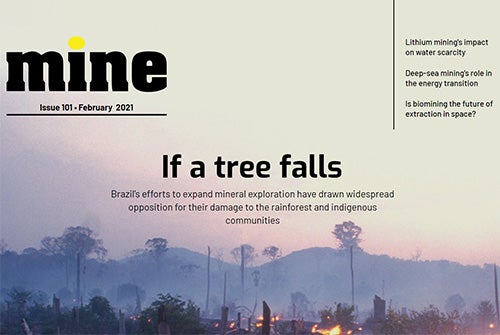 Issue 101 | February 2021
The damage of Brazil's mineral exploration expansion, lithium mining's impact on water scarcity, biomining as the future of resource extraction in space, and more.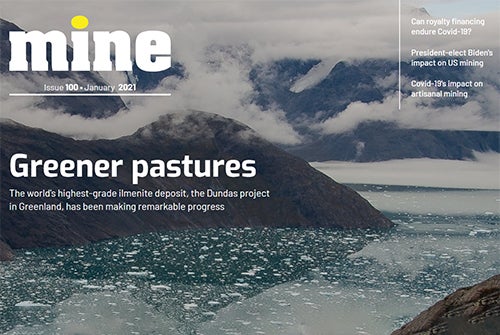 Issue 100 | January 2021
The world's highest grade ilmenite deposit, can royalty financing endure Covid-19, President-elect Biden's impact on mining, and more.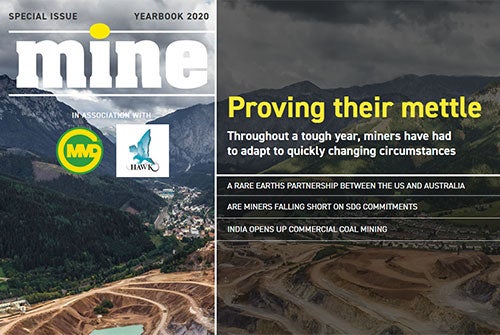 Yearbook 2020
The biggest mining stories from across the past year.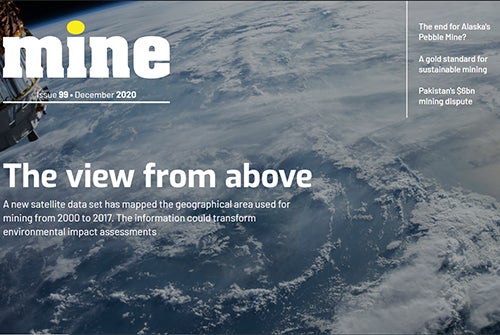 Issue 99 | December 2020
A data set mapping the geographical area used for mining, the controversy around Alaska's Pebble Mine, Pakistan's $6bn mining dispute, and more.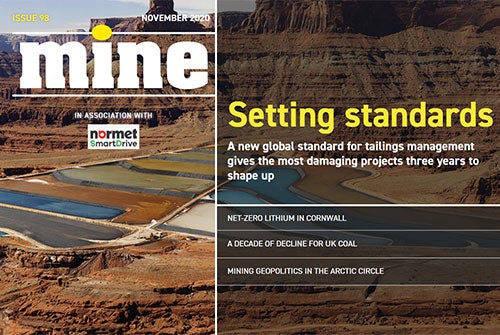 Issue 98 | November 2020
A global standard for tailings management, net-zero lithium in Cornwall, mining geopolitics in the Arctic Circle, and more.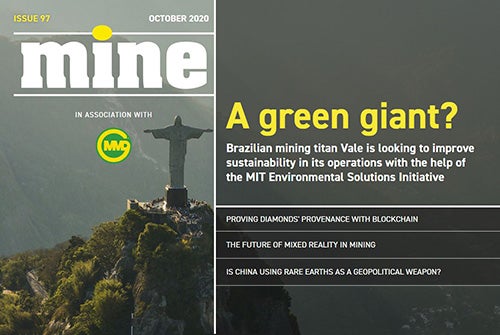 Issue 97 | October 2020
Vale partners with MIT to improve sustainability, proving diamond's provenance with blockchain, China uses rare earths as a geopolitical weapon, and more.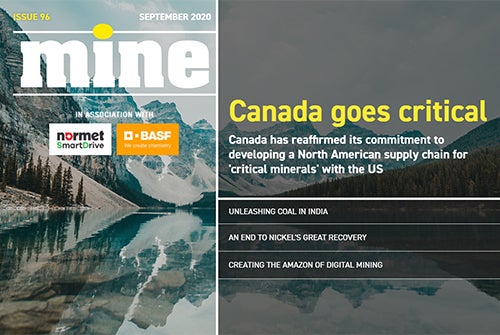 Issue 96 | September 2020
India opens coal to commercial auction, Canada and the US's critical minerals pipeline, creating the Amazon of digital mining, and more.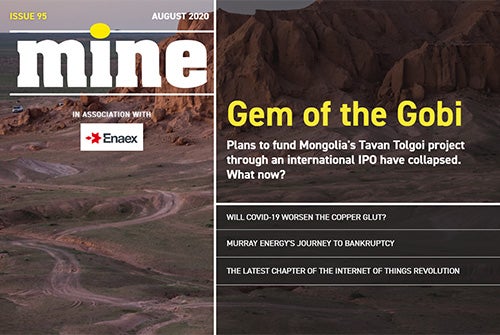 Issue 95 | August 2020
Funding Mongolia's Tavan Tolgoi project, Covid-19's impact on the copper glut, Murray Energy's journey to bankruptcy, and more.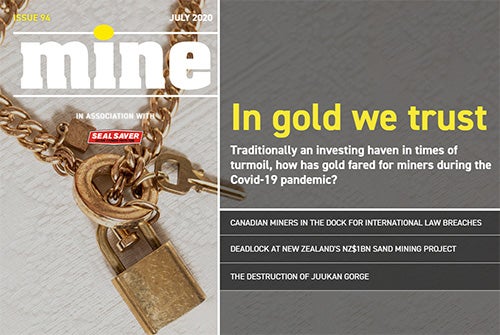 Issue 94 | July 2020
Gold during the Covid-19 pandemic, Canadian miners and international law breaches, deadlock at New Zealand's NZ$1bn sand mining project, and more.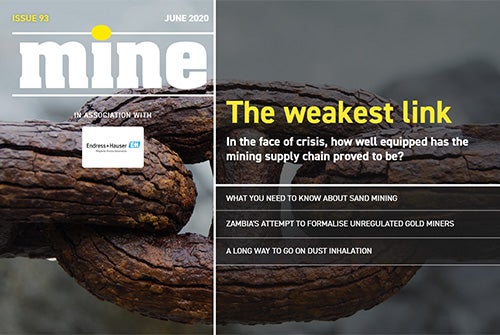 Issue 93 | June 2020
The mining supply chain's preparedness for crisis, Zambia formalises unregulated gold miners, a long way to go on dust inhalation, and more.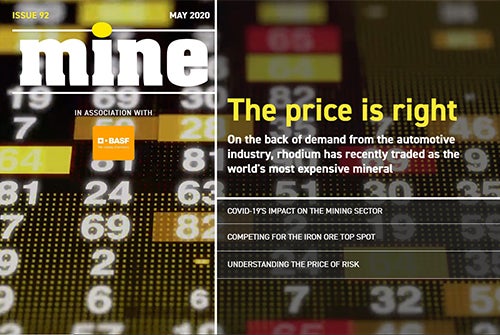 Issue 92 | May 2020
Rhodium trades as the world's most expensive mineral, Covid-19's impact on the mining sector, Rio Tinto and Vale compete for the iron ore top spot, and more.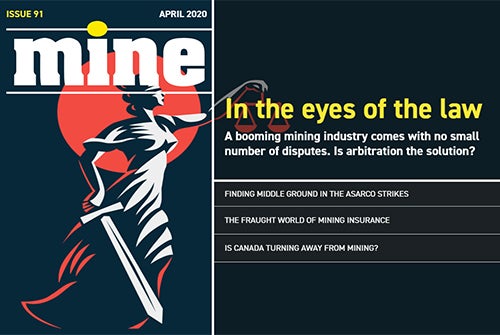 Issue 91 | April 2020
International arbitration's role in mining, finding middle ground in the ASARCO strikes, the fraught world of mining insurance, and more.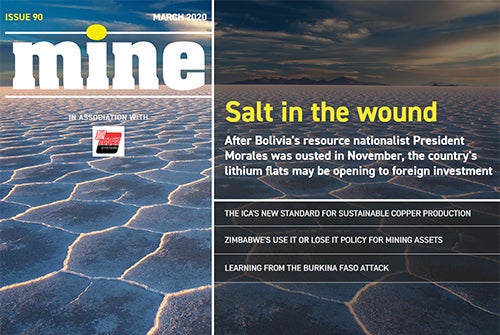 Issue 90 | March 2020
Bolivia's lithium flats may be opening to foreign investment, the ICA's new standard for sustainable copper production, Zimbabwe's 'use it or lose it' policy, and more.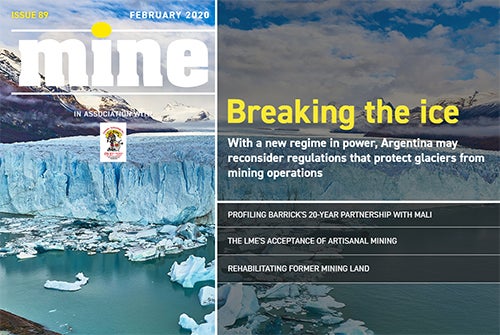 Issue 89 | February 2020
Argentina reconsiders glacial mining regulations, Barrick's 20-year partnership with Mali, the LME's acceptance of artisanal mining, and more.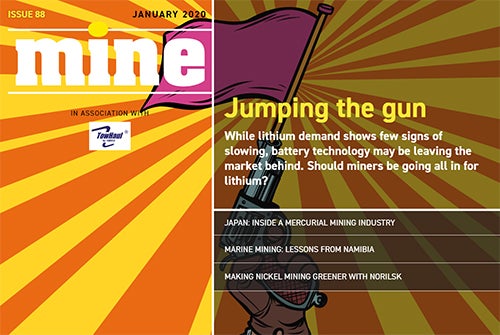 Issue 88 | January 2020
The uncertain future of lithium mining, Japan's mercurial mining industry, marine mining lessons learned from Namibia, cleaning up nickel mining, and more.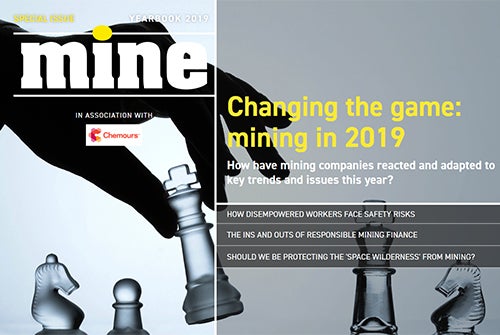 Yearbook 2019
A look back at the biggest mining stories from the past year.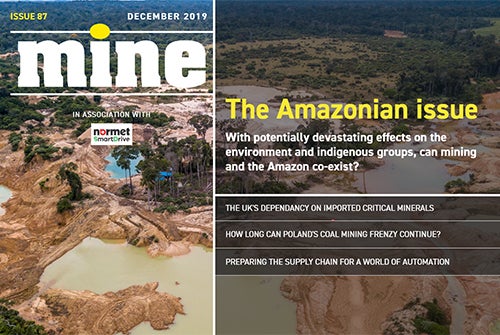 Issue 87 | December 2019
Mining's impact on the Amazon, the UK's dependancy on imported critical minerals, Poland's continuing coal mining frenzy, preparing the supply chain for a world of automation, and more.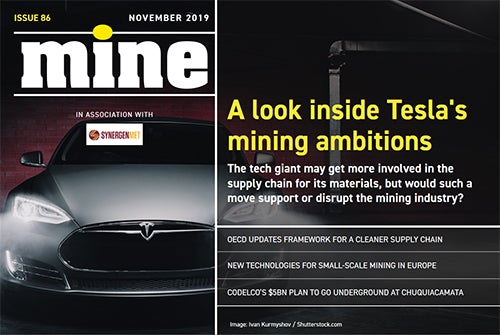 Issue 86 | November 2019
A look at Tesla's mining ambitions, new technologies for small-scale mining in Europe, concerns over the sourcing of crystals, Codelco's $5bn underground extension at the Chuquiacamata mine, and more.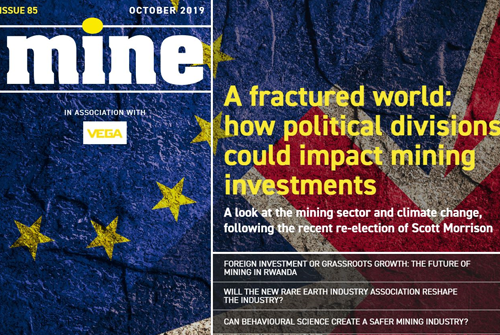 Issue 85 | October 2019
A look at the impact international relations have on mining, the deepsea mining debate, how behavioural science can improve safety, and more.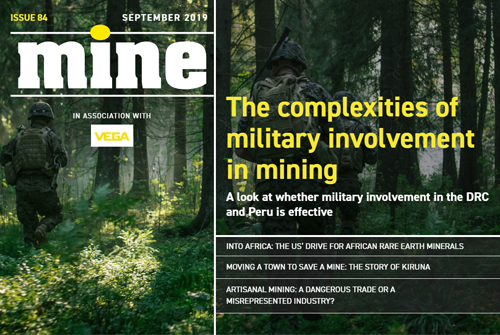 Issue 84 | September 2019
A look at the fortunes of silver, the positives of ASM, the complexities of military becoming involved in mining operations, and more.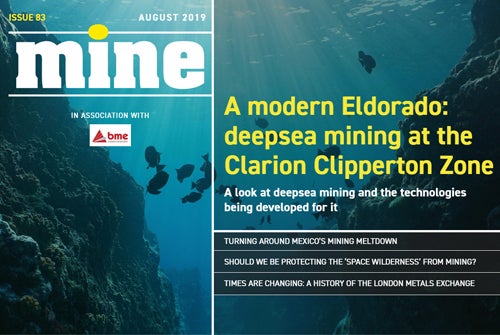 Issue 83 | August 2019
Deepsea mining and technologies being developed for it, turning around Mexico's mining meltdown, a look at the history of the LME, and more.
Issue 82 | July 2019
How mining lobbies are adapting for the modern world, Airobotics drones, a look at the best electric mining vehicles, and more.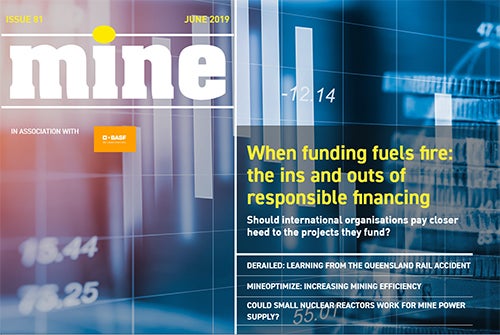 Issue 81 | June 2019
The ins and outs of responsible financing, learning from the Queensland derailment, ABB's mine optimisation solution, and more.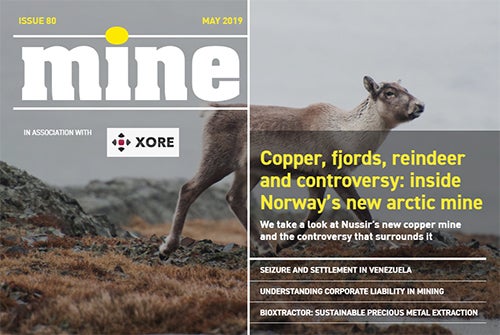 Issue 80 | May 2019
Nussir's controversial new copper mine in Norway, the greatest risks artisanal miners face, bioleaching silver and gold, and more.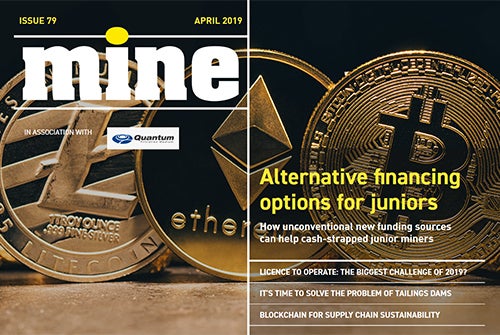 Issue 79 | April 2019
Alternative financing options for junior mining companies, the Goldcorp-Newmont-Barrick mega deal, the mining industry's biggest challenge of 2019, tailings dam safety in the spotlight, and more.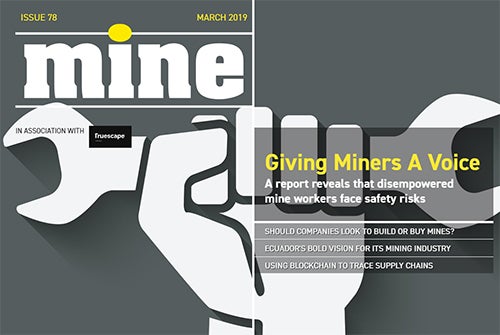 Issue 78 | March 2019
Is it better to build or buy a mine in the future, De Beers' end-to-end diamond blockchain programme, Newfoundland and Labrador's plan to grow its mining sector, giving miners across the world a voice, and more.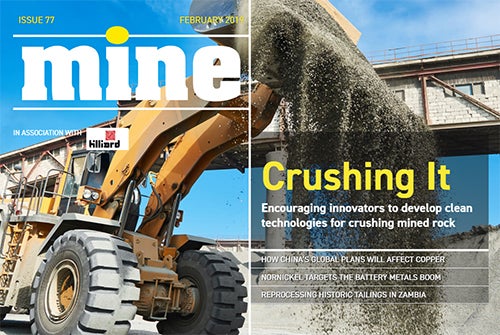 Issue 77 | February 2019
China's Belt and Road Initiative and the global demand for copper, how Nornickel is embracing digital technologies, the main objectives of the Innovation for Cleaner Safer Vehicles programme, and more.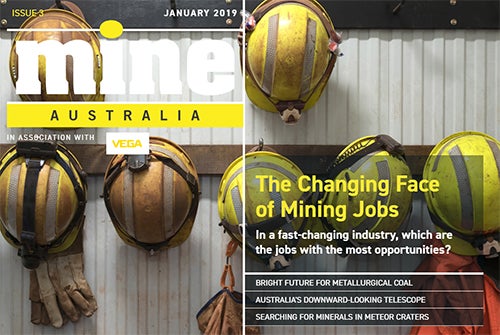 MINE Australia Issue 3 | January 2019
Australia's new MinEx Cooperative Research Centre, strong forecast for metallurgical coal in Asia, mining the world's meteor craters, a new downward-looking telescope that identifies strategic minerals, and more.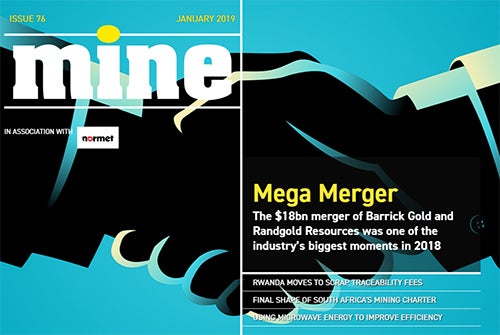 Issue 76 | January 2019
The final shape of South Africa's mining charter, scrapping traceability fees in Rwanda, the Barrick-Randgold mega merger, the problem with developing uranium projects, using microwave energy in mineral extraction, and more.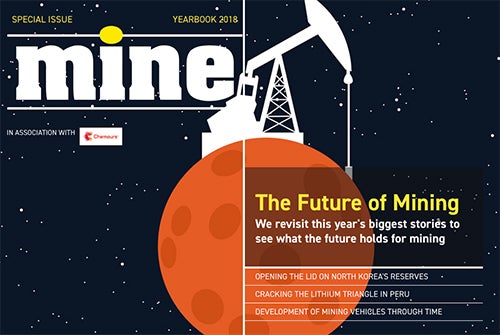 Yearbook | December 2018
We look back on the mining industry in 2018, including shake ups in North Korea and Zimbabwe, the biggest stories in tech and commodities, environmental issues such as Canada's sustainable initiative, and more.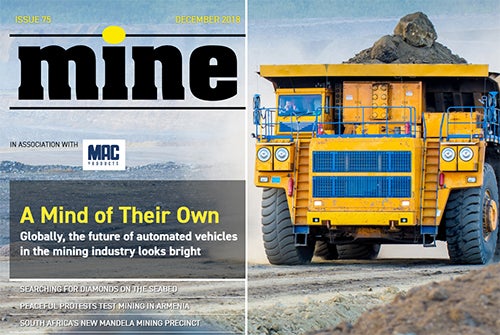 Issue 75 | December 2018
Mining for diamonds on the sea floor, opportunities for driverless vehicles, a closer look at the commodity antimony, creating real-time 3D visualisation for mines, the new Mandela mining precinct in South Africa, and more.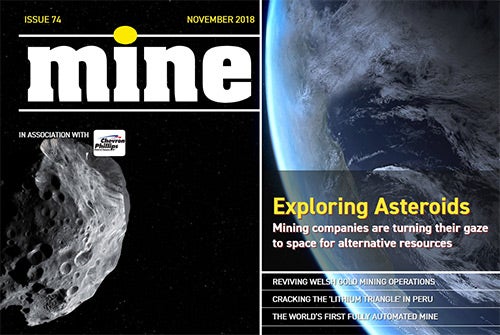 Issue 74 | November 2018
Reviving gold mining in Wales, opening up the lithium triangle in South America, using big data to find minerals, a look inside the world's first fully automated mine, the possibility of mining asteroids, and more.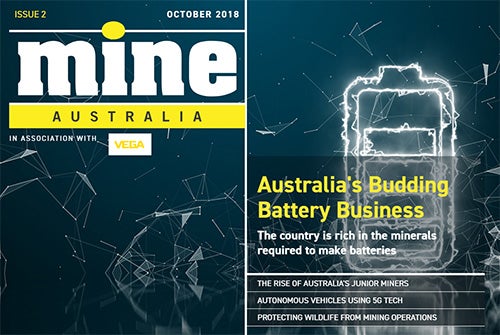 MINE Australia Issue 2 | October 2018
Junior mining companies leading the charge in Australia, Volvo's plans to use 5G mobile technology in autonomous operations, how miners can protect wildlife, the problem of recruiting staff to operations, and more.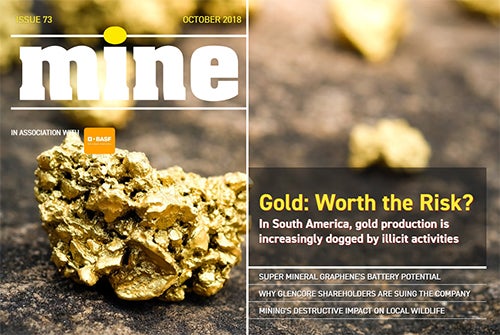 Issue 73 | October 2018
Corruption in the gold mining supply chain in South America, new potential for graphene and graphite, why Mozambique is experiencing a mining boom, best practices for containing coal dust, and more.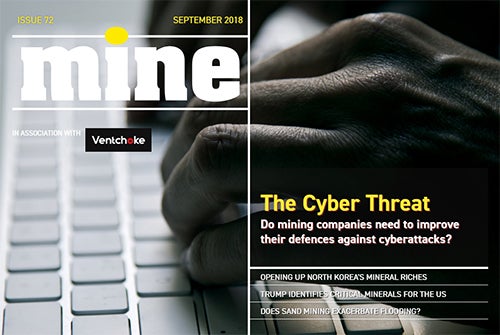 Issue 72 | September 2018
Preparing mining companies for cyberattacks, a pilot using 5G mobile technology for industrial applications, opening up North Korea's mineral resources, critical minerals in the US, and more.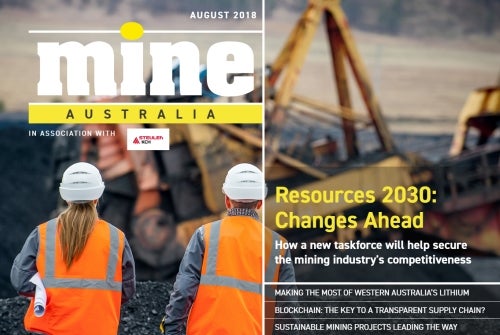 MINE Australia Issue 1 | August 2018
Inside the Resources 2030 Taskforce, Western Australia's lithium hoard, sustainable projects, changing work environments, autonomous drilling, drones, blockchain, and more.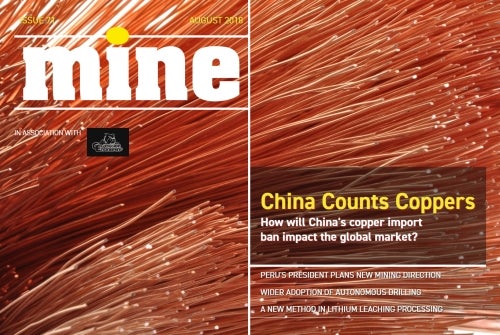 Issue 71 | August 2018
China's copper import ban, Peru's new president, the allure of Welsh gold, South African mine rehabilitation, after Samarco, lithium leaching, autonomous drilling, and more.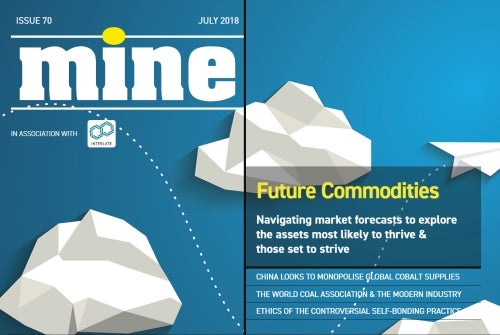 Issue 70 | July 2018
Commodities of the future, China's monopoly on cobalt, rebooting Cuba's industry, stamping out self-bonding, BHP's world coal association exit, predicting earthquakes, and more.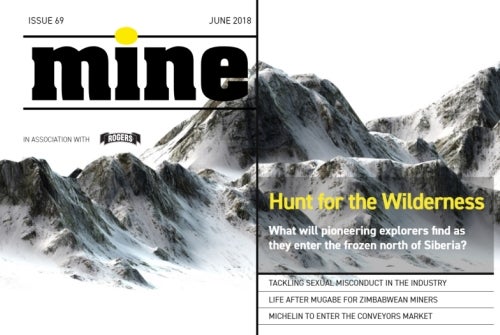 Issue 69 | June 2018
Exploring Russia, platinum in Zimbabwe, dealing with sexual misconduct, the gemstone market, Anglo American's sustainability, Michelin buys into conveyors, and more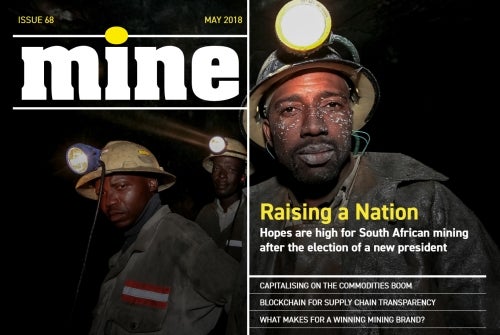 Issue 68 | May 2018
Ramaphosa's South Africa, Ukraine's mining debts, capitalising on the commodities boom, making a mining brand, buying in to blockchain, investing in drones, and more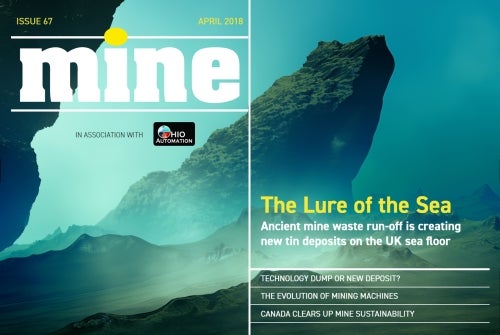 Issue 67 | April 2018
Underwater waste forms new deposits, tech dumps of secondary materials, evolution of mining machines, Canada's sustainability, overhauling the DRC's mining code, and more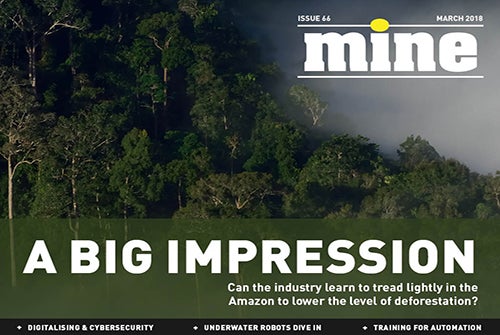 Issue 66 | March 2018
Mining's footprint in the Amazon, Mexico's recovery, underwater robots for flooded deposits, digital risk and cybersecurity, training for automation, reinventing waste, and more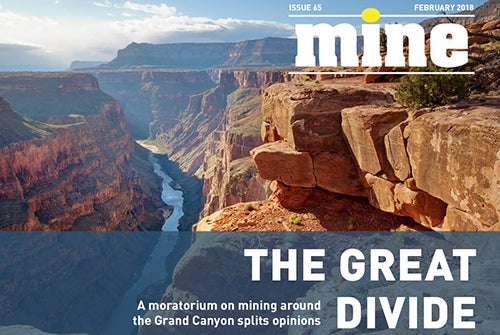 Issue 65 | February 2018
Tapping the Grand Canyon, Chinese firms in Africa, the UK's mining map, embracing the Internet of Things, optimising mine design, rhodium rides high, and more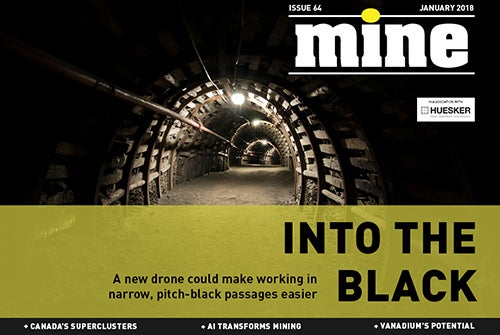 Issue 64 | January 2018
Mining moon minerals, a Canadian supercluster, rising exploration expenditures, AI and drones for operational excellence, vanadium's time to shine, and more
Special Issue | Yearbook 2017
The biggest news stories, major projects, top performing commodities, breakthrough technologies of the past year, and more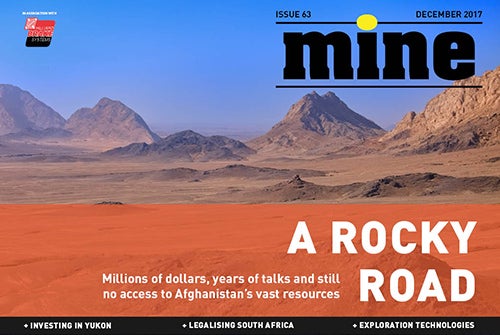 Issue 63 | December 2017
The race to mine Afghanistan, Yukon infrastructure, streamlining Australia's legislation, artisanal mining in South Africa, AI for exploration, locating buried deposits, and more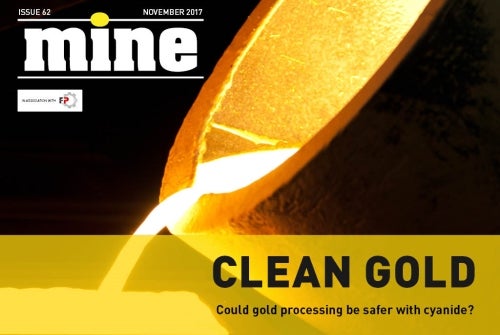 Issue 62 | November 2017
Cyanide makes for clean gold, Grasberg mine's struggles, China's environmental tax, Cornish lithium, titanium in Greenland, cobalt batteries, and more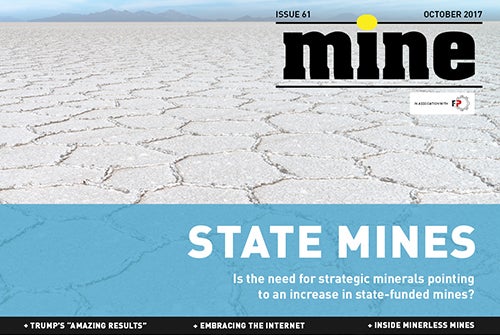 Issue 61 | October 2017
State-financed mines, Trump's "amazing results" for miners, New Zealand land rights, Industry 4.0, long-distance remote operations, Portland stone goes underground, and more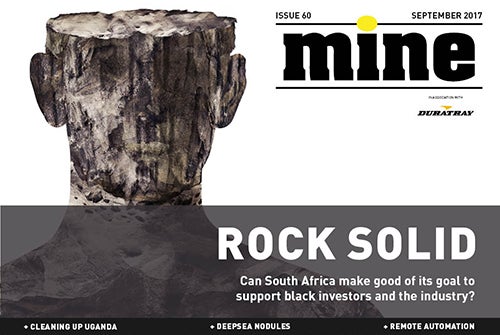 Issue 60 | September 2017
Boosting black ownership, corruption in Uganda, seafloor mining, automated drill rigs, real-time ore analysis, mine rescue response procedures, and more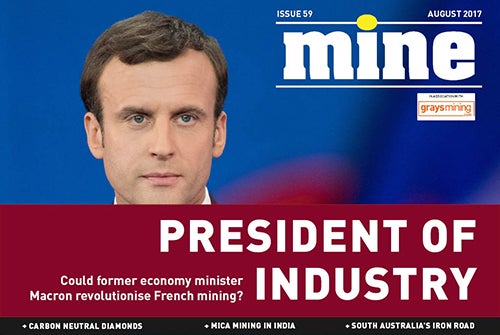 Issue 59 | August 2017
Mining under Macron, the South Australian Iron Road, legitimising mica in India, De Beers to go carbon neutral, ICMM talks falling fatalities, the shrinking talent pool, and more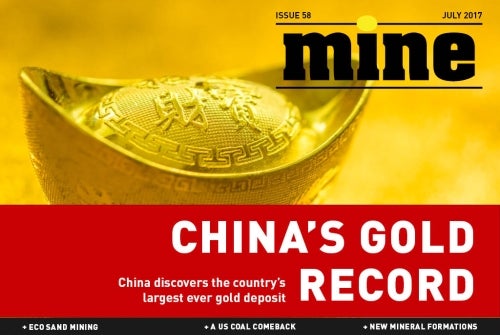 Issue 58 | July 2017
China strikes gold record, the US coal comeback, mining in Mali, new mineral formations, a case for sand mining, the International Collegiate Mining Competition, and more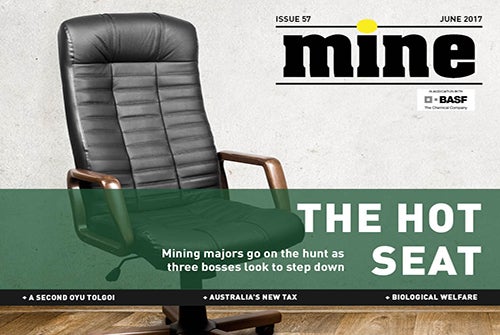 Issue 57 | June 2017
Industry titans search for new leaders, Mongolia expands exploration, Australia's iron ore tax, palladium's prospects, genomics for mine waste, award-winning hoisting, and more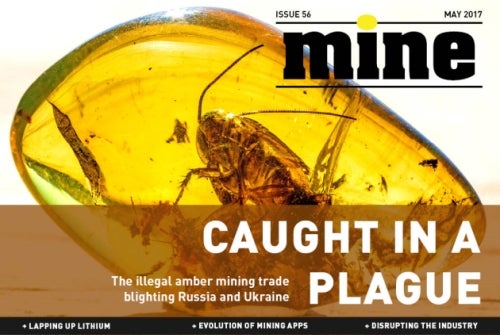 Issue 56 | May 2017
The amber industry trapped in tragedy, a $1m competition to disrupt mining, lithium in Cornwall, forgotten minerals, using drones for site surveys, the evolution of mining apps, and more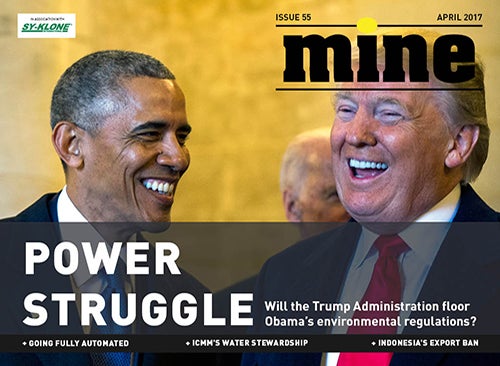 Issue 55 | April 2017
Obama's parting shot at coal, the Canadian Mining Hall of Fame, inching towards automation, Indonesia's new regulations, ICMM's water management commitments, profiling cobalt, and more.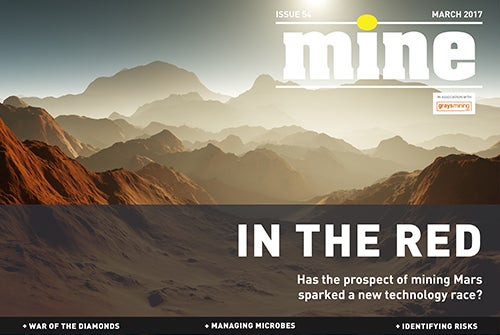 Issue 54 | March 2017
The mission to mine on Mars, a war on man-made diamonds, illegal mining in Pakistan, managing microbes at sites, new end-of-life technologies, analysing market risks, and more.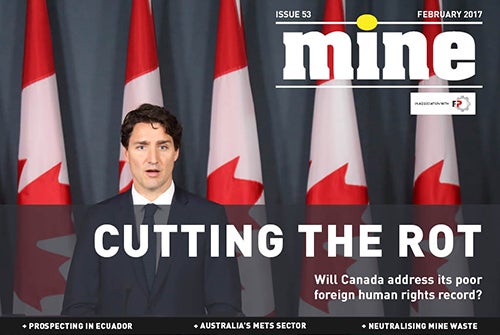 Issue 53 | February 2017
Canada's foreign human rights record, prospecting in Ecuador, finding new minerals, neutralising mine acid waste, tracing Australia's METS sector journey, airborne medics in Africa, and more.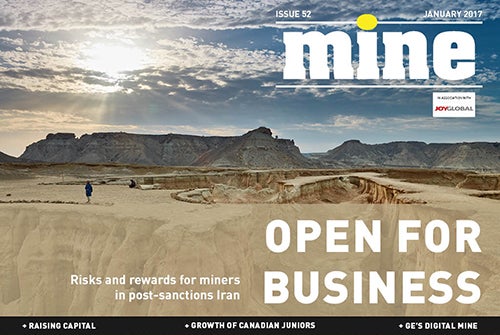 Issue 52 | January 2017
Raising capital in 2017, Iran's market post-sanctions, the growth of Canadian junior miners, supporting the UN's Sustainable Development Goals, CAT after Oberhelman's departure, GE's digital mine, and more.